Press
Dr. John Gerdy has been a guest on numerous radio, TV, and news platforms
Such as Education Week News, ESPN, Vice, NCAA, and TedX, to name a few.
---
John was featured as a guest on the Tough Talk Unlimited Podcast
WATCH JOHN AT TEDX – THE VALUE OF THE ARTS AS A COMMUNITY INVESTMENT
JOHN GERDY TO BE FEATURED IN ART EXHIBIT
---
JOHN GERDY ON EDUCATION DIVE ON THE PAYOFFS OF MUSIC EDUCATION
---
JOHN WAS INTERVIEWED FOR A WALL STREET JOURNAL ARTICLE ON COLLEGE FOOTBALL
---
JOHN GERDY ON INTREPID LIFESTYLE WITH JOE LAVELLE CONTINUING THE DEBATE OF FOOTBALL IN SCHOOLS
---
JOHN GERDY INTERVIEWS ON OUTSIDE THE LINES ON ESPN
---
LANCASTER ONLINE CELEBRATES 10 YEARS OF MFE AND $1M IN GRANTS!
---
FIG STORIES: FEATURES JOHN GERDY
---
---
---
JOHN GERDY RECEIVES CENTRAL PENN BUSINESS JOURNAL NONPROFIT INNOVATION AWARD FOR LEADERSHIP EXCELLENCE
Harrisburg, PA (March 12, 2015) – Nine local nonprofits were awarded grants at the 16th annual Nonprofit Innovation Awards breakfast event held on Monday, March 9, 2015, at the Hilton Harrisburg.
"Rarely do nonprofits in our communities get the recognition they deserve, Not just for the vital economic role they play but, most importantly, for the network of support to those who are in need and less fortunate, for making available the beauty of music, theater and the arts, and for providing the resources and assistance to prepare our region for challenges, growth and change," said Dave Schankweiler, CEO of Journal Multimedia, parent company to the Central Penn Business Journal, who served as the event emcee.
Nine of the 35 finalists received grants from the three community foundations representing the Capital Region, Lancaster, and York. In the categories of marketing, collaboration, operations, and programming, the winner was awarded $2,000 and the runner-up was awarded $1,000. [A full list of the winners, runners-up, and finalists follows at the end of this release.]
John Gerdy, Founder & Executive Director of Music For Everyone, Lancaster County won the Nonprofit Leadership Excellence Award, taking home a $1,000 check for the organization.
Nonprofit Leadership Excellence Category This category identifies and recognizes an exemplary nonprofit leader whose accomplishments have advanced his/her organization and field of service.
WINNER:
John Gerdy, Founder & Executive Director, Lancaster
FINALISTS:
Kathleen Bentley, Executive Director, Perry County Literacy Council, Perry
Daniel Bentancourt, President & CEO, Community First Fund, Lancaster
Louis Castriota, Jr., President & CEO, Leg Up Farm,
Jonathan Hollinger, CEO, Excentia, Lancaster
Sonia Huntzinger, Executive Director, Downtown Inc, York
Barry Ramper, President & CEO, Homeland Center, Dauphin
Elaine Strokoff, Executive Director, Downtown Daily Bread, Dauphin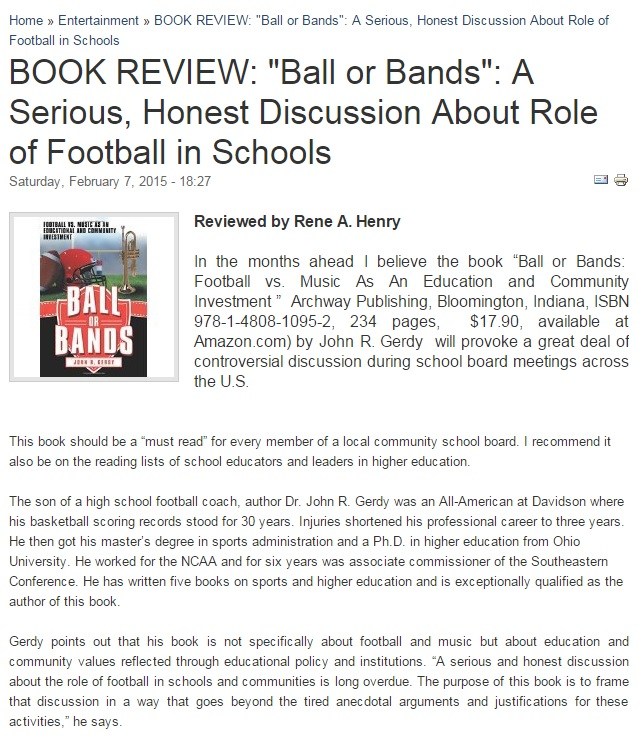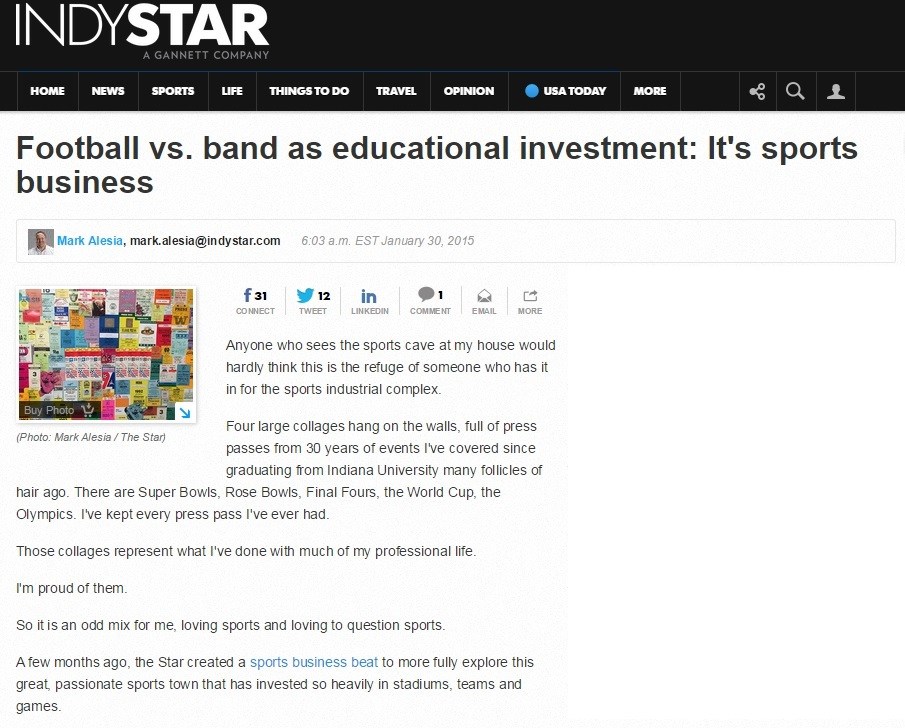 FULL TEXT OF ARTICLE:
Anyone who sees the sports cave at my house would hardly think this is the refuge of someone who has it in for the sports industrial complex.
Four large collages hang on the walls, full of press passes from 30 years of events I've covered since graduating from Indiana University many follicles of hair ago. There are Super Bowls, Rose Bowls, Final Fours, the World Cup, and the Olympics. I've kept every press pass I've ever had.
Those collages represent what I've done with much of my professional life.
I'm proud of them.
So it is an odd mix for me, loving sports and loving to question sports.
A few months ago, the Star created a sports business beat to more fully explore this great, passionate sports town that has invested so heavily in stadiums, teams, and games.
My job is not about Xs and Os. As the collages attest, I've done plenty of that. It's about the people who run sports and the people responsible for directing taxpayer money toward wealthy owners and leagues. It's about the benefit of those games and teams. It's about the sports consumers who keep them going.
And, it's also about the people who don't go to the games or can't afford to go.
There's conflict when budgets bump into the sports culture — when the argument rages over whether money for sports is a taxpayer investment in the city's economic vitality or money diverted from other important endeavors such as sidewalks fighting crime or education.
That sort of conflict is central to my job, so I take notice of books such as "Ball or Bands: Football vs. Music as an Educational Investment" by John Gerdy.
Gerdy is a former administrator at the NCAA and Southeastern Conference. He's the son of a head high school football coach and was Davidson College's career scoring leader in basketball for 30 years.
The guy who beat his record is Stephen Curry, an NBA all-star with the Golden State Warriors.
Gerdy is hardly "anti-sports."
But his book challenges assumptions about the value of football when high schools budget for extra-curricular activities.
"We no longer live in an industrial economy that requires workers to be physically fit, unquestionably obedient, and able to methodically perform the manual tasks required for an assembly line," he writes.
Music, he argues, is better suited for the "global, information-based, creative economy — and the world community — of today and the future." Gerdy has played guitar since high school and performs in a blues band as Willie Marble.
Especially on the week of the Super Bowl, football players will defend the experience as vital for having taught them teamwork, discipline, and persistence. Gerdy said he has no doubt that's true.
"But somewhere along the line," Gerdy writes, "we have come to believe that sports are the only extracurricular activity through which such characteristics are taught."
Gerdy brings up concussions in football. I talked with him and mentioned the work being done by organizations such as Indianapolis-based USA Football to promote safe techniques.
"You could maybe push the needle back to 8 or 7 in terms of violence," he said. "But that's still too much. We're talking about kids' brains."
The book contains this line: "Music is vitamins for the brain, while football scrambles the brain."
I'd like to hear what you think. I'm pretty sure there will be strong opinions on both sides. When national sports radio broadcaster Jim Rome tweeted about "band dorks" on New Year's Day, the backlash prompted him to tweet a day later that he was "out of line."
Just don't email during the Super Bowl. I'll be in the cave, watching.
---
JOHN GERDY – INTERVIEWED ON BLUE RIDGE CABLE "BEHIND THE LINES"
Executive Director John Gerdy speaks about Music For Everyone and the wide reach of MFE in our community.
---
12/28/14 RADIO INTERVIEW REGARDING "BALL OR BANDS" AND UAB DECISION TO DROP FOOTBALL PROGRAM
AIRED ON "SPORTS N' STUFF" (WHPN-FM 97.7)
Sports N' Stuff Interview with 'Ball or Bands' author John Gerdy taken from the 12-28-2014 Show.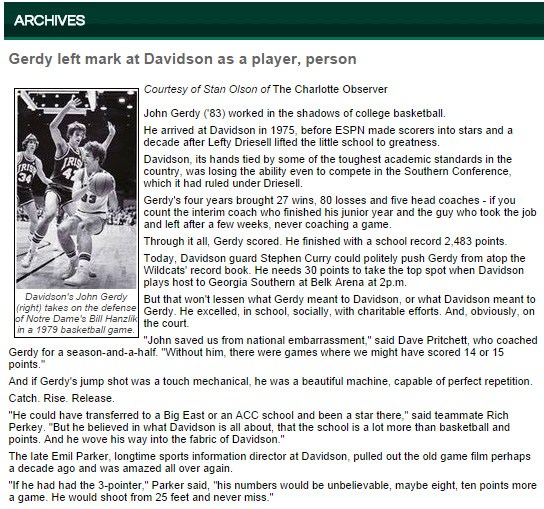 ---
---